Target's RedCard comes with a generous 5% cashback reward offer for its customers. You can enjoy this discount through online and in-store purchases too.
Let's guide you through the process of how to make a Target RedCard credit card payment, create a login, contact customer support, and more.
Where to Apply for a Target RedCard Credit Card?
Target offers three types of credit cards, including RedCard, RedCard Mastercard, RedCard Debit, and RedCard Reloadable cards.
The debit card is linked to a customer's bank account. The reloadable card works as a private-labeled debit card used at Target stores mostly.
The RedCard credit card is a closed-loop credit card that you can only use at Target stores and target.com for online shopping. The Mastercard is the standard credit card that you can use at Target or anywhere else Mastercard is accepted.
Target's credit, debit, and reloadable cards are issued by TD Bank. However, you must apply for these cards through Target's website or in person at its stores.
You can find the application links for all three categories at the homepage of the Target RedCard link. Use the appropriate link for the type of card you want to apply for.
Provide essential details, including name, date of birth, contact, email, mailing address, and income details. Then, submit the application form for processing online.
The approval criteria for a debit card, reloadable card, and Mastercard credit card will be different. You should expect approval for a Mastercard credit card with a higher credit score and a stronger income stream.
Your online credit card application will be processed instantly, and you'll be notified immediately about the approval or rejection.
How to Create the Target RedCard Credit Card login?
You must create an online account login before you can activate the RedCard or perform other online activities.
Visit the link rcam.target.com first and locate the "Sign Up" link on this page. Write your RedCard credit card or debit card number in the next step.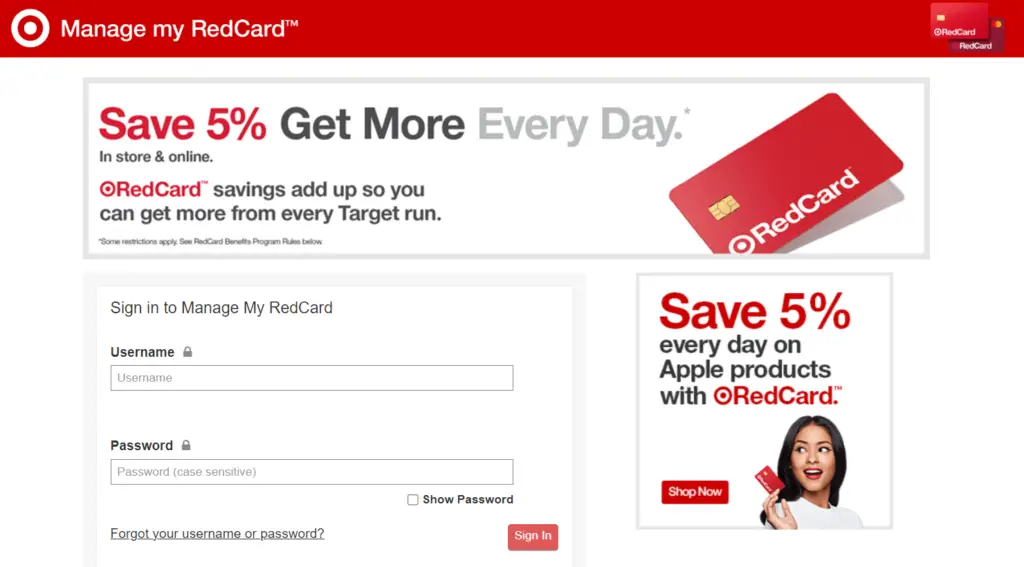 The online card management system will search your credit card profile. Then, provide other essential details to confirm your identity.
You'll receive a verification email or a passcode on your mobile to confirm your identity. Then, select the username and password to create the online account.
You can then use these RedCard online account credentials to log in to the account for further actions.
How to Activate the Target RedCard Credit Card?
Log in to your RedCard credit card online account by using the username and password created in the first step above. Then, locate the "Activate Card" link from the menu.
Choose the type of RedCard you own from the options given in the tab. Then, confirm the contact details and other information to receive the activation code correctly.
Once confirmed, you can start using the RedCard debit, credit card, or reloadable card conveniently. The process should take a few minutes.
Alternatively, you can call the RedCard credit card/debit card support team to activate the card. Provide your identity details and card number to activate the card instantly.
How to Make a Target RedCard Credit Card Payment?
You can top-up the reload card at any Target store or use a debit card linked to your bank account. The debit card also does not require paying bills as it is connected to your bank account with TD bank or any other bank of your choice.
As you utilize the RedCard Mastercard, you must repay card bills to keep your card activated and avoid inconvenience.
Online Payments
The most convenient method to make a RedCard credit card payment is by using an online account. Once you create an online RedCard account, you can make credit card payments through this account easily.
Log in to your RedCard account first.
Select the "Payment Information" tab from the menu and select the credit card.
Then, confirm your bank account details.
Choose the payment amount and confirm other details like your contact number.
Review and confirm the payment amount to process the card payment.
If you want to change the default bank account, change it before making the payment as it will take time to reflect the change in your online account.
Your online RedCard Mastercard payment should be processed immediately on working days.
Payment by Phone
Another convenient and quick method to pay your RedCard Mastercard bill is by phone. You can contact the RedCard customer care helpline at 800-424-6888 to make a payment.
Keep the RedCard credit card details, bank account number, routing number, and identity information ready with you to make the payment.
Payment by Mail
You may use a paper check or payment order to make a RedCard credit card payment too. It is an easy option but takes more time than the other options listed above.
Prepare a paper check or money order for the RedCard payment amount you want to pay and send it to the following mailing address.
Target Card Services
P.O. Box 660170
Dallas, TX 75266-0170
In-Store Payments
If you want to pay by cash or paper check without mailing it, walk to a customer support agent at one of Target's stores near you.
Provide the RedCard credit card number and account information to the customer support agent. Your cash payment should immediately reflect in your credit card account.
How to Manage Your Target RedCard Credit Card Online?
You can enjoy different services and benefits when you sign up for the RedCard online account.
Here are a few services to look for:
Go paperless and view e-Statements of your credit card.
View and monitor all transactions.
Manage your card PIN.
Make online payments and set up auto payments.
Add and manage authorized card users.
Set card alerts and notifications.
Track card reward points and redeem options. 
Transfer balance, check outstanding balance, and more. 
Pros and Cons of Target RedCard Credit Card
Target RedCard Mastercard and other cards offer several benefits to users. The highest rewards and card benefits come from the Mastercard RedCard through.
Pros Explained:
5% cashback rewards on all purchases at Target stores and target.com.
2% cashback reward points on dining and gas purchases additional 1% points on all other purchases through the Mastercard.
Additional return time on purchases made through RedCards.
Up to $500 savings on baby purchases and $675 savings on grocery items.
No annual fees on all RedCard variants.
Cons Explained:
Qualification for the RedCard Mastercard is difficult as compared to its reloadable and debit cards.
There is no signup bonus for Mastercard users.
The 5% discount rules apply and are available for selected categories only.
The standard APR applies to Mastercard uses along with other credit card fees.
How to Recover Your Target RedCard Credit Card Credentials?
Visit the rcam.target.com page first and locate the "Forgot Password" link below the login form there.
Provide your email and contact number to receive the password reset link. Once you confirm your identity, you can then reset the password of your online RedCard account.
You can also contact RedCard customer care to reset your card credentials.
How to Cancel Target RedCard Credit Card?
Contact the RedCard customer support team to cancel the card. You can talk to a customer support agent at one of its stores or speak to an agent through a call.
Make sure to pay all credit card bills and fees before processing the cancelation application with the RedCard support team.
How to Contact Target RedCard Credit Card Customer Support?
You may need to contact the Target RedCard customer support team for various tasks, including retrieving the account password, resetting the due date, or any other issue.
You can send an email to the customer support team by logging in to your RedCard online account and using the "contact us" link there.
Target Credit Card and Mastercard: 800-424-6888
Target Debit Card: 888-729-7331