Sears is a leading retail chain company offering a wide range of products through different brands. You can shop for a variety of products at its store locations or online portal.
Sears has two types of credit cards for its customers. Depending on the eligibility and qualification points, you may select its in-store card or the standard Mastercard credit card.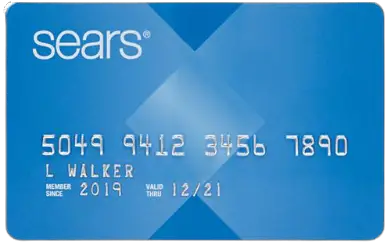 Let us guide you through the process of the credit card application, creating a card login, and different ways to make Sears credit card payments.
Where to Apply for a Sears Credit Card?
Sears have two types of credit cards for its customers. The first one is a private-labeled store card that can only be used for shopping at Sears.
The second one is a standard credit card powered by Mastercard. Both these credit cards are issued by Citibank.
Before you can use and manage Sears credit cards, you need to apply for one. The application for both these cards can be processed online.
The store cards and credit cards issued by Sears then come in different categories. You can choose from one of these credit cards:
Shop Your Way Mastercard
Sears Card and SearsCharge Plus card
Sears Mastercard
Sears Mastercard with Thank You Rewards
Sears Home Improvement Card
You can either follow the credit card application link from Sears or directly from the Citibank website to apply for a new credit card.
Citibank will assess your online application with a soft credit check initially. The detailed review of your Mastercard credit cards will incur a hard credit check though.
Once you select the preferred credit card type from the drop-down list, follow the instructions to provide essential information for application processing.
How to Create the Sears Credit Card login? 
Once you have received a Sears credit card, you can create an online account to access different card features.
Follow the link from the Sears website to register your credit card. Sign up by providing personal information including name, date of birth, credit card number, contact number, social security number, etc.
Then choose your username and password for the online profile. You'll receive a verification link in your email inbox or at your registered mobile number.
Once you verify the profile, you can then activate the credit card and use the credential to log in. You can follow the same steps to create a Sears credit card login through the mobile app for Sears.
How to Make a Sears Credit Card Payment?
You have a few options to make a Sears credit card payment. You'll have to keep the credit card account active and updated by making regular payments.
You can use these options to make a one-time credit card payment or for recurring monthly payments.
Online or By Mobile App
The first option to make Sears credit card payments is to use its online portal. You'll first need to register your credit card and create an online account before making any payments.
Visit Sears credit card payment page and locate the "register your card" link. It will redirect you to Citibank's credit card management system.
Here you can create an online profile by selecting your Sears credit card.
Follow the prompts to provide essential details and set up the online profile.
Create your "user ID" and "password" credentials after confirming the details.
Then, choose the credit card payment option from the menu.
You can use the default linked bank account or change it to make a credit card payment.
Make sure to have the correct bank account number, bank routing number, and other details to set up online payments for your Sears credit card.
You can follow the same process to set up online payments through Sears mobile apps too. Alternatively, use Citibank's mobile apps directly if you have a bank account with Citibank.
By Phone
Another convenient option for you to make Sears credit cards is by using the phone service. This option is available 24/7 via automated phone helpline services from Sears.
You can use this helpline: 1-800-917-7700 to use the automated call menu or talk to a representative and make the credit card payment.
Sears credit card holders can also talk to customer service agents using these numbers:
Sears Mastercard: 800-669-8488
Shop Your Way Mastercard: 877-816-9063
Keep your credit card details, payment amount, bank account, bank routing number, and personal identification information ready with you.
This payment method is an instant one but it may take a few days to reflect the transaction in your credit card statement after clearance from your bank.
In-Person
You can walk into any Sears branch and reach out to the customer services desk. Ask them to make a payment for your credit card.
You'll need personal identification and credit card details to make a payment. You can pay there by a debit card, cash, or through the bank account linked to your credit card.
By Mail
A slower but convenient option to pay for your Sears credit card bills is by mail. You can send a paper check or money order to Sears credit card center and clear your dues.
Sending a paper check by regular mail may take longer and cost you a late fee. You can use the expedited mail services to pay for your credit card bills.
You can send the financial instrument for regular payments to:
Sears Consumer Payments
P.O. Box 9001055 Louisville, KY 40290-1055
Or 
PO Box 70604
Philadelphia, PA 19176-0604
For express payments, send your checks/money orders to:
Sears Consumer Express Payments
Attn: Consumer Payment Dept.
6716 Grade Lane
Building 9, Suite 910
Louisville, KY 40213
How to Manage Your Sears Credit Card Online?
Managing credit cards online comes with several benefits including reviewing reward points and converting them into credit.
Once you set up the Sears credit card profile online, you can perform several activities to easily manage it.
View credit card transactions and monthly statements.
Find applicable interest rates, due dates, and outstanding credit balances.
Find and pay the minimum payable credit card amount.
Add or remove credit card-authorized persons.
Add or change the bank account for credit card payments.
Set up automatic payments with alerts and notifications.
You can use the online profile to view and convert reward points too. You can access these features through Sears mobile app as well. 
Sears Credit Card Benefits
The Sears store card can only be used at its stores and website. You cannot use it outside of Sears shopping purchases. Yet it comes with several benefits and perks.
The Sears Mastercard is the standard credit card that you can use at any place wherever Mastercard is accepted.
Sears credit cards offer the following benefits:
10% off on selected appliances or 18 months of financing.
5% discount on selective products or 12 months of financing.
5% in rewards points on all gas station purchases.
3% in rewards points on purchases from grocery stores and restaurants.
2% in rewards points on purchases through a "shop your way" credit card.
1% in rewards points on all other purchases through the "shop your way" credit card.
The financing options can come with a fixed or variable APR on both credit cards. The variable interest rate ranges from 9.90% to 28.99% currently.
The fixed interest rate applicable for these credit cards varies from 5.0% to 26.49%.
How to Recover Your Sears Credit Card Credentials?
You can use the phone helpline, mobile app, or online portal to recover your Sears credit card credentials.
The easiest way to recover your credit card credentials is to use the online credit card service portal. Follow the "forgot password" or "forgot user ID" link to get a confirmation link.
You'll receive an email to reset your credentials in your registered mailbox. If you had activated two-factor authentication, you'll receive a confirmation message on your mobile too.
Once you verify this link, you'll be able to reset the password or user ID. You'll also need to provide additional identification information or answer some security questions to prove your identity.
How to Cancel Sears Credit Card?
Sears credit cards are issued by Citibank. You can cancel the credit card by clearing outstanding bills and bank charges first. You can contact Citibank's customer services through branches or the phone helpline. Alternatively, you can request the card cancelation through the Sears credit card service center by calling at their helpline: 1-800-917-7700.