Morgan Stanley is a multi-national wealth management company offering financial advisory and wealth management services to individuals, businesses, and governments.
Individuals can benefit from its online financial management tools and access these services conveniently through online and mobile banking apps easily.
Let's dive in!
Morgan Stanley Online Financial Tools
Morgan Stanley's online financial tools help users keep all accounts in one place. You can add investment accounts, bank accounts, and budgets under this tab.
Users can manage different wealth management tools offered by Morgan Stanley online. Some critical services for your wealth and investment management tools on offer include:
Wealth management
Investment banking and Capital markets
Sales and Training
Research and Insights
Investment management tools
Sustainable Investing
Once you add all the savings/checking accounts and investment portfolios, you can then monitor your financial from this online account.
This gives you an overview of your income and expenses from all sources in one place. You can review the progress of your income streams and compare them against your monthly and yearly expenses.
Overall, you can manage the risk profile of your wealth management tools from the same place by using Morgan Stanley's online financial tools.
Morgan Stanley Online – Key Features
Whether you want access to an online budget tool or to consult an investment advisor, you can use Morgan Stanley's online financial management tools.
Let's briefly review key features on offer through Morgan Stanley's financial management tools for retail and corporate clients.
Wealth Management
E*Trade from Morgan Stanley online account
Automated Investment Management with E*Trade
Virtual Assistant on a live phone call
A dedicated financial advisor
Mergers and Acquisition services including:

acquisitions, divestitures, mergers, joint ventures, corporate restructurings, recapitalizations, spin-offs, exchange offers, leveraged buyouts, and takeover defenses, as well as shareholder relations.

Capital Market services include executing IPOs, leveraged buyouts, and debt offerings.
Cash equities, brokerage services, fixed-income instruments, electronic trading
Data research and insights on companies, local and global economies, sectors, and markets.
Investment management tools include real estate, fixed-income assets, actively-managed equity, and private credit & equity.
How To Log In to Your Morgan Stanley Bank Account From a Computer?
As mentioned above, Morgan Stanley offers a wide range of financial and wealth management services. Each section then comes with different benefits.
You can open a private investment or any other type of account with Morgan Stanley through one of its dedicated branch office locations.
Once you have an account number, you must then authenticate and activate it before you can register it for online access.
Then, follow these simple steps to create an online account username for further access.
Visit the homepage of Morgan Stanley's wealth management website.
On the right top corner, locate the "Client login" and then the "Morgan Stanley Online" links.
If your account is not registered yet, provide the last four digits of your social security number and account number.
If you already registered the account, enter your username and password.
Click "Login" to access your online account.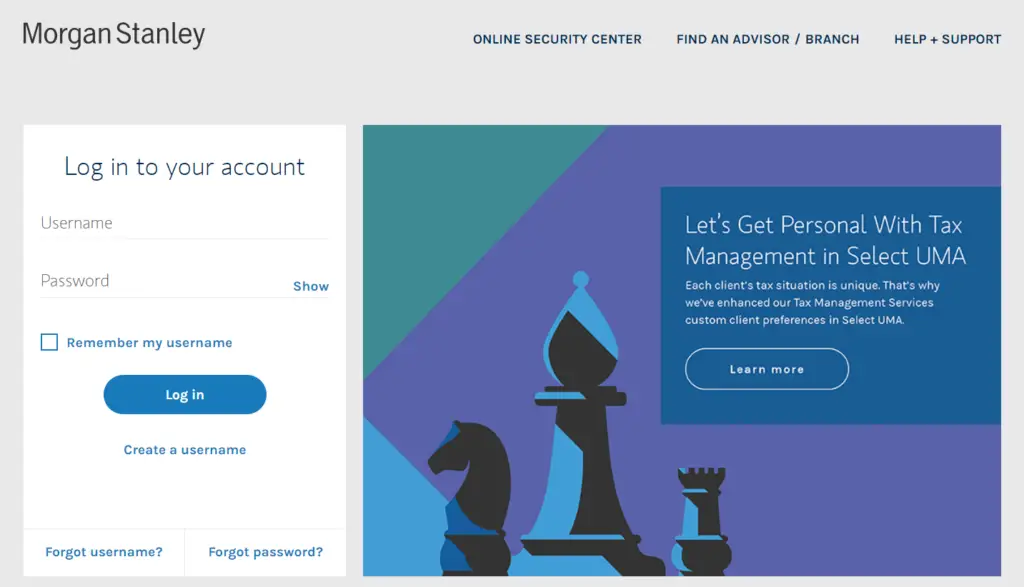 You can use the same page to access other online portals like the "StockPlan Connect", "Research Portal", and "Matrix".
How To Log In to Your Morgan Stanley Bank Account From a Mobile Phone?
You can follow the same steps to access your Morgan Stanley online account from a mobile or tablet as well.
Morgan Stanley's mobile app is available for IOS and Android devices. Download the app for your device first.
Then, register your banking account and activate it first. You can create a username and password during this process too. It will authenticate your online account for mobile banking too.
Finally, use the account credentials to log in and access the account from your mobile or tablet conveniently.
How To Retrieve a Forgotten Username or Password?
You may forget the account username or password or lose it when you don't access the account for a while. You can retrieve a forgotten password or username through online or mobile accounts easily.
Visit the home page of Morgan Stanley's wealth management portal.
Click on the "client login" tab on the top-right corner of the page.
Choose the "Morgan Stanley Online" link from the drop-down menu.
Use either of the "forgot username" or "forgot password" links given below the "login" tab.
You'll receive a password reset link in your registered email inbox and a one-time password (OTP) if you have activated the double-factor authentication.
Once you verify through the link, you'll be able to reset the password or username. During the reset process, you'll need to provide the last four digits of your social security number and account number for verification too.
How to View Your Morgan Stanley Statement Information?
Morgan Stanley's online and mobile banking services allow you to manage all services conveniently through a single account.
You can view the account statements manually by logging in to your online or mobile app account. Use the online account credentials to log in first.
Locate the "Accounts" tab from the menu and then click on the "documents" link. You can view the account statement for any period and also subscribe to e-statements for monthly statements.
Here are a few other features to access through the online account:
Activate the multi-factor authentication for secured 24/7 access.
Scan and deposit checks from your mobile and enjoy instant deposits.
Send money online through ZELLE and eAuthorization transfers to anyone in minutes.
Access key account information, including balance, activity, holding, and income.
Make stock trading investments and sales through the online account.
Track spending and create an online budget to view your income and expense streams from the same spot.
View e-Statements and store your valuable documents securely online and access them on the go.
What are the Charges for Different Services Offered by Morgan Stanley?
Morgan Stanley offers several services for free to its valuable clients. However, it's a good idea to know the exact fees for each service to control your account management expenses easily.
Here are a few major service charges:
$0 on stocks, ETFs, and Mutual Funds trading for Stock Plan participants.
If you use a financial advisor, each trade will cost $25.
An overnight check is charged at $10, and a checkbook at $20.
The World Debit Mastercard debit card comes with no annual fee and 2% international transaction fees.
$25 for express mail deliveries of a checkbook or debit card.
Returned checks, insufficient funds, and stop payments are charged at $25 each.
There is no fee for stock and returned stock certificates.
How To Contact Morgan Stanley If You Have Trouble With Your Account?
You may need to contact Morgan Stanley if you have trouble with your account or any other inquiries.
You can call the self-directed support team at 1-866-227-2737.
For assistance with Morgan Stanley accounts 1 (888) 454-3965
For assistance with the Morgan Stanley Directed Share Program: 1 (877) 580-8237
Corporate clients can contact Morgan Stanley for fund services at:
Morgan Stanley Fund Services
1221 Avenue of the Americas, 5th Floor
New York, NY 10020
Morgan Stanley Online Financial Tools – FAQs
Here are a few important questions asked about the Morgan Stanley online financial tools.
What is Morgan Stanley ALPHAS?
ALPHAS is a wealth and financial management program for corporate clients. It is a managed service offered to corporate clients.
How to Add External Accounts to Your Morgan Stanley Online Account?
Simply log in to your online account using your username and password. Then, click on the "add external accounts" link. You can add any other financial institution's bank account.
Does Morgan Stanley Charge for Online Financial Tools?
No, most of the Morgan Stanley online financial tools are free for its clients. However, it will charge for some other services as mentioned above.
What is Morgan Stanley's Online Budget Tool?
The online budget tool allows you to manage cash flow, track expenses, and monitor account activities from the same account.
How to Deposit a Check in Your Morgan Stanley Account?
You can mail a paper check by name and write your account number to the bank. Alternatively, log in to the mobile banking app and click on the "deposits" tab. Then, scan the check to instantly deposit money in your account.