Old Navy offers rewards and credit cards to its users with different perks and offers. Card members can manage their credit card payments and other aspects online easily.
Let us discuss how to make an Old Navy credit card payment, credit card login, customer service, and more.
Where to Apply for an OLD NAVY Credit Card?
Old Navy credit cards are issued and managed by Barclays bank now. Previously, these cards were issued by Synchrony bank.
Existing customers may need to use Synchrony bank services for these credit cards though. If you can't use Synchrony bank's online portal for Old Navy credit cards, your account may have been shifted to Barclays bank.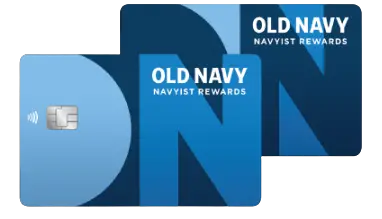 Visit the Barclays bank credit card page for Old Navy and its sister brands first. You can find this link from Old Navy's home page footer menu as well.
Then, fill out the application form by providing your mobile number and the last four digits of your social security number. Then, continue with the next step and provide further details.
Barclays bank will review your credit card application instantly. Depending on the type of credit card you selected, Barclay's bank will approve your credit card application.
Qualification for Old Navy rewards credit card is easier than the other two credit cards the Navyist Rewards Mastercard and the Navyist Rewards World Mastercard.
Barclays bank may put a hard credit check to your credit history for the NAvyist Rewards and World Reward Mastercard credit card applications.
How to Create the OLD NAVY Credit Card login?
You can create the Old Navy credit card login after receiving the card. If you only want to manage the Navyist Rewards program, you can create an online account with Old Navy separately.
Visit the Barclays bank credit card page for Old Navy first. Locate the sign-up link for the online banking account and proceed further.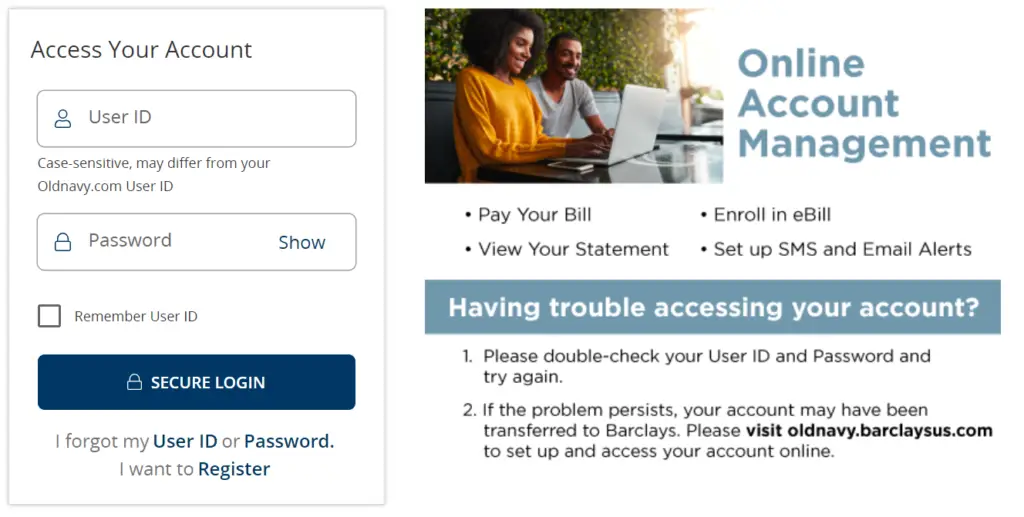 You'll need the following details:
Last four digits of the social security number. 
16 digits of the Old Navy Navyist Mastercard credit card number. 
Select the occupation from the list.
Follow the prompts to fill out the application form in the next few steps. Then, provide essential details to complete the process. You'll need to verify the registration through an email or passcode on your mobile.
You can create the Old Navy Mastercard credit card login through the Old Navy website too. The online rewards Navyist program portal is separate from the credit card portal.
How to Make an OLD NAVY Credit Card Payment?
Old Navy stores do not accept credit card bill payments. So, you cannot make a Navyist Rewards credit card payment in cash or by debit card at stores.
Fortunately, there are a few other options to make a payment for your Old Navy credit cards.
Pay Online
The simplest option to clear your credit card bills is online banking. You can make one-time or recurring payments through Barclays bank's online banking portal.
Sign up for the Barclays bank online credit card account first. Log in directly with your credentials if you have already created the account.
Then, locate the "payments" tab from the menu and process the payment. Confirm your default bank account, payment amount, and other details before applying.
If you want to change the default bank account, change it separately as it will take time to reset a linked bank account for your credit card payments.
Your card payment should be cleared immediately and reflected in your card statement too.
Pay by Mobile
You can follow similar steps to make a credit card payment by using mobile apps. Download the Barclays bank mobile app on your IOS or Android device first.
Then, create your online account or sign in using credentials if you already have them ready. Locate the payments tab from the menu and provide other details.
Confirm the bank account, bill amount, address, contact number, and other details. Submit the payment application for instant approval.
You can also create auto payments through mobile and online banking portals. This feature allows you to make recurring monthly payments with a fixed amount and on a preset date.
Pay by Phone
A convenient option to clear your Old Navy credit card bills is by phone banking. You can call customer care services to clear a credit card payment.
You can call customer care at 866-621-0532 and follow the automated menu. If you use the live agent service, it may incur charges to your account.
Keep your credit card number, bank account number, bank routing number, and other details ready.
Pay by Mail
Another convenient but slower option to clear credit card bills is by mail. You can send a paper check or money order by mail to make a credit card payment.
For regular Old Navy Mastercard credit card payments, use:
Card Services
P.O. Box 60517
City of Industry, CA 91716-0517
Card Services
P.O. Box 13337
Philadelphia, PA 19101-3337
For express payments for your Old Navy Mastercard credit card payments, use:
Card Services
Lock Box 60517
2525 Corporate Place, Suite 250
Monterey Park, CA 91754
Card Services
400 White Clay Center Drive
Newark, DE 19711
How to Manage Your OLD NAVY Credit Card Online?
Managing your Old Navy Mastercard and Rewards World Mastercard credit cards provides several benefits.
View and monitor credit card statements and transactions.
View the minimum due amount, due date, and credit card balance.
Make online payments, transfer balances, and other transactions.
Add or remove credit card authorized users.
View and convert rewards points.
You can view rewards points by using the Navyist program account too. However, the rewards account only provides information about the rewards program.
You can manage credit cards for other family brands of Old Navy including Banana Republic, GAP, and Athleta through this account too.
Pros and Cons of OLD NAVY Credit Card
Like its other family brands, the Old Navy rewards and credit cards offer some excellent benefits to users. Card members enjoy the most benefits on the Old Navy Navyist World Mastercard.
Let's briefly review its pros and cons.
Pros Explained:
This card offers a 30% discount on the first purchase made at Old Navy stores/online shops.
This card offers 5 reward points per $1 spent through Old Navy and its family brands.
Customers get 1 point per $1 spent outside the family brand purchases.
Card members move to higher membership tiers as they spend more resulting in higher rewards points and exclusive offers.
Card members enjoy bonus points, early access to sales, special birthday gift points, and many other perks.
Card members in the enthusiast and icon tiers pay no annual fees.
Cons Explained:
Higher rewards points come with more spending and subject to top-tier membership statuses.
This card comes with a slightly higher APR as compared to other cards.
The bank may charge you for funds transfers, cash advances, and other transactions.
How to Recover Your OLD NAVY Credit Card Credentials?
Visit Barclays bank's online credit card account page first. Locate the "forgot password or username" link below the login form.
Provide necessary details like your registered email address and mobile number. You'll receive a verification link in your mailbox and a passcode on your mobile.
You can reset the password or username using these verification links easily. Alternatively, you can contact Barclays bank's customer services through a phone helpline.
How to Cancel an OLD NAVY Credit Card?
Since the Old Navy Navyist credit cards are issued and managed by Barclays bank, you'll need to contact the bank to cancel the card.
You can visit a Barclays bank branch and ask for credit card cancelation. Alternatively, you can call the bank's phone helpline at 866-621-0532.
You can use this 24/7 helpline to report your lost or stolen cards too.
Make sure to pay credit card bills and clear charges if any before processing a credit card cancelation application.
How to Contact OLD NAVY Credit Card Customer Support?
You can contact Old Navy customer support for help with the rewards program or general queries about credit cards.
You can use the helpline 1-800-653-6289 of Old Navy for general inquiries.
You can contact Barclays bank at:
Old Navy Rewards Card: (866) 383-5315
Navyist World Mastercard® Cardmembers: (866) 839-2474