Ulta beauty offers rewards and Mastercard credit cards. These cards come with lucrative rewards and perks for frequent shoppers at Ulta beauty stores and saloons.
Let's discuss how to make Ulta credit card payments, online accounts, customer services, and more about it.
Where to Apply for an Ulta Credit Card?
Ulta rewards and credit cards are issued by Comenity bank. It has two types of credit cards and another one for its rewards program.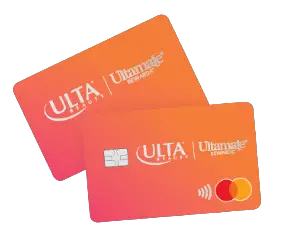 The Ultamate Rewards credit card is a closed-loop card that can be used at Ulta stores only. The Ultamate Rewards Mastercard is a standard credit card that you can use anywhere, including Ulta stores.
You can apply for these credit cards in two ways.
The first method is to apply for a store card or Mastercard at one of the Ulta stores manually. You can reach out to the customer services desk and ask for the credit card application.
The second method is to apply for a credit card online through the Ulta credit card management system. Provide personal information, date of birth, email address, social security number, and other details to create an online account.
Then, choose the credit card you want to apply for. Your online application will be processed instantly by Comenity bank.
You can create the Ulta credit card management account during the application process as well. You can use this online account to manage rewards and credit card payments.
How to Create the Ulta Credit Card login?
The Ulta credit cards are issued and managed by Comenity bank. Once you create the online account, you can then manage credit card payments and enjoy other features.
Visit Comenity bank's Ulta credit card account page first. Select between the Ulta Rewards and Ulta Rewards Mastercard that you have.
Then, click on the "register" button to start your online account registration. Provide essential information including address (Zip code/Postal Code), Ulta credit card number, and last four digits of the social security number.
You can create an online account with Ulta beauty separately to manage the rewards. Visit the Ulta beauty home page and locate the credit card link. Then, follow the same steps as mentioned earlier to create the online account.
You can manage both online accounts separately. The rewards management account can be used to manage the Ulta rewards card (store card) too.
How to Make an Ulta Credit Card Payment?
Ulta credit card payments are managed through Comenity bank. You have various options to make a credit card payment.
Online Payments
You'll first need to create an online credit card management account with Comenity bank if you haven't already.
Then, log in with your account credentials created in the first step. Then, locate the payments tab in the menu and select your credit card.
Select the payment amount and bank account, and confirm other details. By default, your Comenity bank account number will show up in the list.
You can change this account number at any time. However, the change may take some time. So, it's better to first confirm your bank account and then proceed with the payment.
You can pay the minimum monthly amount or the full credit card statement balance for the current period.
Payment by Mobile
A similar method to pay your Ulta credit card bills is by using the mobile banking services of Comenity bank.
Download the mobile app on your IOS or Android device for Comenity bank first. Then, register your mobile banking accounting using the same steps mentioned above.
Once your mobile banking account is ready, you can proceed with the Ulta credit card payments. Confirm the bank account, credit card payment amount, and other details to proceed with the payment.
You cannot use gift cards or rewards points to settle the credit card bill though. For further convenience, you can set up the autopay function for recurring monthly payments on time.
You can change the date, bank account, and amount for the autopay service at any time using online or mobile banking services.
Payment by EasyPay
Comenity bank offers the EasyPay service to make online payments for credit cards. You do not need to sign up for the online account and you can pay directly using this service.
You'll just need to enter the Ulta credit card number, Zip or postal code, and the last four digits of your social security number.
You can then use the bank account details to pay the credit card bill directly for the minimum payable amount or the statement balance in full.
Payment by Phone
An easier way to pay for your Ulta Mastercard or Rewards Card bills is through phone banking services by Comenity bank.
You can call Comenity bank's phone helpline at 1-866-257-9195 and follow the menu to make a credit card payment. Keep your bank account number, bank routing number, credit card details, and personal identification information ready.
Payments through the phone helpline and online banking may incur charges depending on Comenity bank's policy.
Payment by Mail
You can send paper checks or money orders to Comenity bank to clear the Ulta Rewards or Mastercard bills easily too. Payments by mail may take longer to clear and reflect in your card statement.
Prepare your money instrument and attach the credit card statement copy. Send it to the following address:
Comenity Bank 
P.O. Box 650973 
Dallas, TX 75265-0973
How to Manage Your Ulta Credit Card Online?
Managing your Ulta Rewards and Mastercard credit cards is easier with online banking from Comenity bank. If you simply want to manage the rewards program, then you only need the Ulta rewards account.
Using the Ulta rewards account, you can view rewards points, redeem points, see conversion rates, and find available promotions.
Comenity bank's credit card online account provides further control to manage credit cards easily.
View and monitor credit card statements and transactions.
Make online credit card payments and set up automatic monthly payments.
Change and add personal information.
Add or remove authorized credit card users.
Set up credit card alerts and transaction notifications.
View monthly due dates, and minimum payable amount, and manage payments online.
Pros and Cons of Ulta Credit Card
Ulta Rewards and Mastercard credit cards come with similar benefits with the latter offering more value.
Let us briefly discuss the pros and cons of using an Ulta credit card.
Pros Explained:
You get a welcome bonus of 500 rewards points with the Mastercard.
These cards offer 20% off on your first purchase at Ulta beauty.
Both credit cards come with no annual fees.
You earn 2 reward points on every $1 on Ulta purchases on both cards.
The Ulta Mastercard offers 1 point for every $1 spent outside Ulta beauty.
As you spend more with Ulta beauty credit cards, you move to the next tier of credit card membership. It improves the rewards point ratio.
Cons Explained:
Qualification for the Mastercard credit card can be tough for applicants without considerable creditworthiness.
The APR on both these cards is relatively higher as compared to other cards.
The rewards points are good but come with limited validity periods.
The reward points come at a good rate for frequent shoppers at Ulta beauty and saloons.
How to Recover Your Ulta Credit Card Credentials?
You can contact Ulta beauty customer services at 1-866-983-8582 to request the credit card account credentials from Comenity bank.
Alternatively, you can directly call Comenity bank's customer support services at 1-866-271-2680 and ask for help. An easier way to reset the Ulta credit card login credentials is to use the "forgot password/username" link on the home page of Comenity bank's online account page.
How to Cancel Ulta Credit Card?
If you want to cancel the Ulta Rewards card or Rewards credit card, you can directly Ulta customer support at one of its stores or through the phone helpline.
You may need to contact Comenity bank's customer support services to cancel your Ulta Mastercard credit card though. You must clear all credit card bills and fees before canceling the card.
How to Contact Ulta Customer Support?
You can contact Ulta customer support services through the phone helpline at 1-866-983-8582 for the rewards program, payments, account, and other inquiries. You can also contact Comenity bank's customer support at 1-866-257-9195 for the Ultamate Rewards Mastercard and 1-866-271-2680 for the Ultamate Rewards World Mastercard.