Express is a leading fashion apparel brand and comes with exclusive offers and promotions. You can enjoy cash back rewards on shopping at Express and even more with an Express credit card.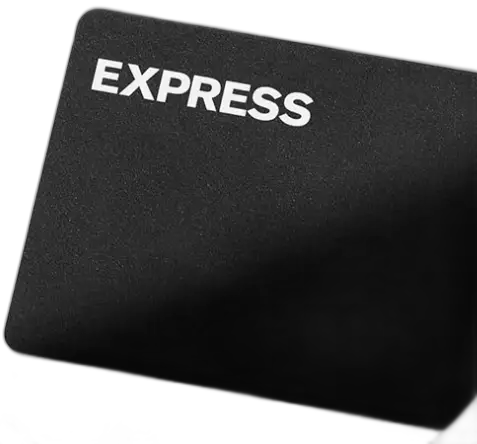 Where to Apply for an Express Credit Card?
You can follow these steps to apply for an Express credit card first if you haven't already. Then, follow our detailed guide to learn to find and use the Express credit card login later.
Express credit cards are issued and managed by Comenity bank. There are two ways to apply for an Express card with Comenity bank.
The first method is to apply directly from Express.com by finding the credit card application link from its home page footer menu. Read the credit card terms and conditions first and also the online consent agreement.
Fill out the online credit card application by providing the necessary details. Then, submit the application for online processing with Comenity bank's credit card management system.
The second method is to apply Comenity bank's online banking. Find the credit card application link here and proceed with the application by filling out all columns.
You'll need the following information for both methods:
A photo ID
Must be at least 18 years old (or be a major in your state).
Tax identification numbers like TIN, SIN, or Social Security Number.
Provide a street, rural route, and APO/FPO address.
Full name, Phone number, and email address.
Express credit card system does not accept PO box addresses.
Your credit card application will be processed immediately and may incur a hard credit check too. Once approved, you'll receive a confirmation mail and the physical credit card will be dispatched to your address.
How to Create the Express Credit Card login?
Once you have the Express credit card, you can follow these steps to create the card login and create an online account to easily manage it.
Visit Comenity bank's credit card management page for Express first. Locate the card registration tab on the right top corner and click.
Fill out the form with the following information:
Last four digits of the social security number. 
16 digits of the Express credit card number. 
Select the occupation from the list (that you already provided earlier).
Then, follow the prompts to provide further information about your online account profile. You'll immediately receive a confirmation mail in your registered mailbox.
By clicking on the verification link in the email, you'll be able to verify your identity and complete the profile setup. Then, you can choose the username and password of your choice.
The credit card account registration link is available on the Express home page as well. However, the Express Insider Rewards program registration is different from this account.
How to Make an Express Credit Card Payment?
Since Comenity bank does not accept debit cards as a payment method for Express credit card bill payments, you cannot pay at any of the Express stores.
You've got a few options to consider, though.
Make a Payment Online
Once you create the Express credit card login, your online card management will be easier. Sign up for your online credit card account by following the steps outlined above.
Then, sign in with the account credentials by visiting Comenity bank's official card management page first. Locate the payments or "pay your credit card" tab from the menu.
Verify the bank account linked to your profile first. If you want to use another bank account, change the default bank account before making a payment.
Then, select the payment amount, bank account, routing number, and other details to clear the bill. You can pay the full card statement bill or the minimum payable amount.
The online payment method for Express credit cards is the quickest one and your payment should be processed immediately.
Pay Through the Mobile App
A similar method to the one listed above is to pay by using mobile banking applications. You can easily download Comenity bank's IOS or Android apps on your devices.
Then, create an online account or log in with the credentials created earlier. Locate the "payment" tab from the menu and proceed with payment.
Confirm the bank account details, bank routing number, amount, date, and contact details. Verify the payment through the temporary passcode received on your registered mobile number.
This method should also instantly process the payment for your Express credit card.
Pay Through EasyPay
Comenity bank offers another convenient credit card payment option through its EasyPay services. You can clear Express credit card bills through this method without creating an online account.
Visit Comenity bank's online card management page and locate the "EasyPay" tab in the top bar. Keep your credit card number, bank account, routing number, email, and other details ready.
The only drawback of this method is that you cannot set repeat payments when paying as a guest. However, it's an excellent choice for credit card holders making a one-time payment.
Pay by Phone
You can also clear Express credit card bills by using the phone helpline of Comenity bank. Customer care is available throughout the weekdays during working hours.
You can contact Comenity bank's phone customer care at 1-800-201-4955. If you use the automated payment menu, there will be no charges for this service and it will be available to your 365 days a year.
Pay by Mail
Another convenient option to clear credit card bills is to send a paper check or money order to Comenity bank. However, clearing credit card payments through this method may take longer than other options.
You can use an express mail service to quickly clear the credit card bills. You can send your payment instruments to:
Comenity Bank
PO Box 182273
Columbus, OH 43218-2273
How to Manage Your Express Credit Card Online?
Managing your Express credit card payments online is easy. An online credit card management account comes with other benefits too.
Your Comenity bank's credit card online account offers these benefits:
View and monitor card transactions and statements at any time.
Add or remove authorized credit card users.
Check your statement amount, due date, outstanding credit card balance, and more.
Verify and update your personal contact information, email, mobile number, mailing address, etc.
Add automatic payments from your online account for recurring payments with flexible dates and amounts.
View and redeem Express Inspire reward points online.
Express customers can create a separate online account for the Express Inspire Rewards program if they don't have a credit card yet.
Pros and Cons of Express Credit Card
Let's briefly review the pros and cons of an Express credit card.
Pros Explained:
This card offers 2X reward points than normal Express shoppers with 20 points per $1 for the Influencer and 25 points per $1 for the A-list members.
The cashback is also higher with 1,250 points = $5 and 3,750 = $15 for card members.
Card members enjoy free shipping and returns on all purchases.
Card members receive a special birthday gift of $20 or $40 depending on the membership status.
Cons Explained:
It is a private-labeled store card with limited use only.
The credit approval depends on the credit score of the applicant and is usually limited.
The APR on this card is relatively higher as compared to other store cards.
Reward points come with a very short expiration period of only 60 days.
How to Recover Your Express Credit Card Credentials?
You can recover the Express credit card login or account details by using the online recovery link easily. Visit the online account home page and locate the "forgot password/username" link.
Using this link, you'll get a verification email or passcode on your mobile. Once you verify your identity, you'll be able to reset the account credentials easily.
You can also contact Comenity bank's customer care through phone or chat services.
How to Cancel Express Credit Card?
You must clear all credit card bills before you can cancel the card. Since an Express card is a store card, you can cancel it through Express customer support or Comenity bank directly.
You cannot close the card online as you have to contact customer support either by call or by visiting in person.
How to Contact Express Credit Card Customer Support?
You can call Comenity bank's customer care at 1-800-201-4955. The automated customer care service is available 24/7 and throughout the year.
The Express customer care service number is 1-888-397-1980.