Kroger offers a standard credit card to its users that you can use for shopping at its stores and anywhere else Mastercard is accepted.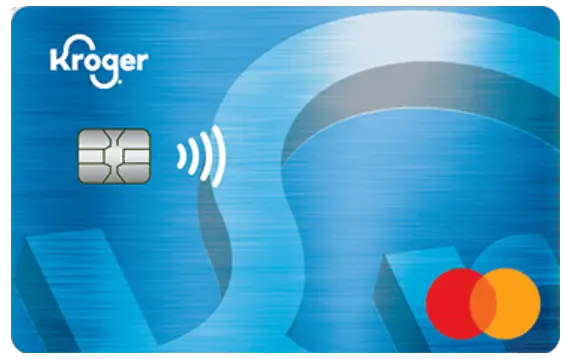 Kroger Mastercard credit card is issued by the US Bank. You can find and use the card online credentials through the US bank online banking easily.
Let's go through the details.
Where to Apply for a Kroger Credit Card?
The US bank issues Kroger credit cards. You can apply for this credit card online through the US Bank or Kroger's website easily.
Alternatively, you can visit the nearest Kroger store and ask for the credit card application. However, it may take longer than an online application.
Visit the link krogermastercard.com and find the link for credit card application under the "apply now" tab. It will redirect you to the US bank's credit card application portal.
Fill out the application form by providing the necessary details. Provide your personal information first, email address, contact number, address, date of birth, and social security number.
The US bank will process the credit card application immediately. It may incur a hard credit inquiry to your credit report too. If the approval takes longer, you may need to reapply or your application may get rejected.
Since the Kroger Rewards World Elite Mastercard is a standard credit card, you may need a healthy credit score to successfully apply for this card.
This credit card can be used for in-store shopping at Kroger grocery stores or anywhere Mastercard is accepted.
How to Create the Kroger Credit Card login?
You can manage the Kroger Rewards World Elite Mastercard online through the US Bank's online banking portal and mobile banking easily.
You can visit the Kroger Mastercard website and find the online banking registration link on the home page easily. The link is available directly through the US bank website too.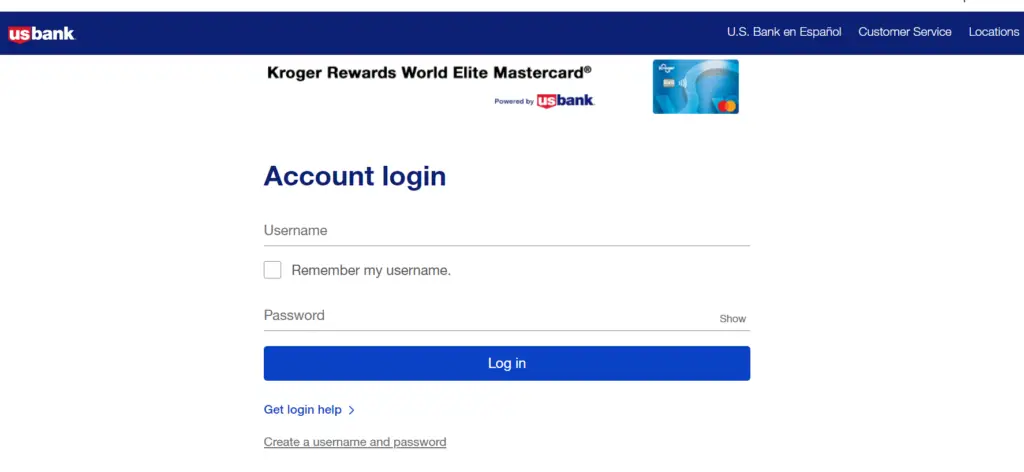 Then, sign up for online banking by providing your credit card number or bank account number first. Then, provide the social security number and click continue.
Once you provide the necessary information, you'll be able to create an online banking profile. This process will include a verification step through your registered email or contact number too.
You can then use these credentials to use the Kroger credit card log-in every time. You can set up mobile banking for your Kroger credit card similarly and create the login using the same steps too.
How to Make a Kroger Credit Card Payment?
Paying for your Kroger Mastercard credit card is easy through various options. You can use any of these methods to keep your credit card payments on track and avoid late fee penalties.
Online Banking
The quickest method to pay your Kroger Rewards World Elite Mastercard bill is through online banking offered by the US bank.
First, register for online banking using the steps outlined above. Then, use the credentials to log in to your online banking account.
Find the "Bill Payments" tab from the main menu. Then, select the bank account you want to use and the Kroger Mastercard from the list.
Then, select the payment amount and other details. You can choose to make a one-time payment here or set up auto payments for recurring bill payments.
Then, submit the application and your payment will be processed on the same banking day.
Mobile App
First, download the US bank mobile app for your Android or IOS device. Then, create the mobile banking account using the same steps as mentioned for the online banking section.
Select the "make a payment" tab from the menu and click on the Kroger Elite Mastercard to pay the bill. You can confirm the bank account here and proceed with the payment by completing the next few simple steps.
Money Services
Another convenient way to make a Kroger credit card payment is through Money Service at Kroger stores. These services are available at selective Kroger stores.
You can make a payment for the Kroger Elite Mastercard or any other credit card through cash easily. You'll have to pay the service charges to make a payment through Money Services though.
You'll need to provide the credit card bill stub and bank account number if required. You can use a debit card here as well.
By Phone
You can also clear your Kroger credit card bills by calling the phone helpline of Kroger or the US bank. Either way, you'll need to provide the credit card and bank account details.
Once you confirm your identity and provide bank account details, you can then pay the minimum payable amount or one-off large payment as you like.
The phone service by Kroger at 844-237-0593 is available 24/7.
By Mail
Another convenient way to pay for your Kroger credit card bills is by mail. You can send a check or money order to the US bank's credit card payments section to clear your Kroger card bills.
Use the following address:
U.S. Bank National Association
Cardmember Service
P.O. Box 790408
St. Louis, MO 63179-0408
Mention your account number or a reference number along with the payment instrument for easier payment processing.
How to Manage Your Kroger Credit Card Online?
Managing your Kroger Mastercard online or through mobile banking offers several benefits to you on top of making credit card payments.
Here are a few key features that you can enjoy by creating an online Kroger credit card account.
Pay your credit card bills or transfer money to other accounts.
Add authorized Kroger credit card users and change/remove the existing ones.
Transfer the balance of your Kroger credit card to another one.
View credit card balance, transaction history, and statements.
View and redeem Kroger credit card rewards points.
Request convenience checks and credit card agreements.
Apply for a credit card limit increase.
Set up credit card alerts and notifications for security purposes.
You can enjoy paperless banking with the Kroger credit card online account. It will also help you save credit card data in digital form.
Pros and Cons of Kroger Credit Card
Kroger Rewards World Elite Mastercard offers some excellent benefits and also comes with some limitations.
Pros Explained
The card comes with 5% cash back on mobile wallet purchases for the first $3,000 and then 1% afterward.
Cardmembers earn 2% cash back on all purchases at Kroger stores.
Cardmembers earn 1% cash back on all purchases outside the Kroger stores.
This card comes with no annual fees.
It does not come with foreign transaction fees and offers promotions on hotels and travel bookings.
If cardmembers spend at least $6,000 annually starting from the first year, they enjoy a 55 ¢ per gallon discount on gas fillings. If you don't meet the minimum spend limit, the discount is only 5 ¢ per gallon.
It is a standard credit card that can be used anywhere and not just as a closed-loop store card.
Cons Explained
The APR on Kroger Mastercard varies from 17.74% to 30.74% depending on the credit score of the card member which is relatively higher as compared to other cards.
The card reward points are valid for three years only.
Credit card reward points come with a minimum spend limit which is relatively lower as compared to others in the same category.
Kroger credit card rewards points for outside purchases are lower as compared to other credit cards.
Applicants require an excellent credit history/score to get approved for a full-fledged credit card.
How to Recover Your Kroger Credit Card Credentials?
You can contact Kroger credit card services by phone, mail, or chat to recover your credit card online credentials.
The Kroger helpline for reporting lost/stolen cards is available 24/7 at 844-237-0593.
Alternatively, you can contact the US bank credit card emergency services at 1-800-622-7747 to ask for the credit card credentials again.
An easier way to reset the username/password is through the online banking page. You'll receive a verification email to reset the password at your registered mailbox.
How to Cancel Kroger Credit Card?
Since the Kroger Mastercard Elite Rewards card is issued by a US bank, you'll need to contact the bank to cancel it.
You can call the US bank customer support for credit card cancelation at 800-285-8585. Alternatively, use the Kroger Mastercard helpline mentioned above and ask them to process the application for you.
How to Contact Kroger Customer Support?
You can contact Kroger customer support for account-specific inquiries by logging in to your credit card online account first. Then, select the "contact us" tab and request a query. Alternatively, call Kroger credit card customer care at 844-237-0593.