Loft is a renowned apparel brand in the US. You can shop around for a variety of brands and items at its stores or through the website. The store offers credit cards to its customers as well.
Let's guide you through the process of how to apply for a Loft credit card, make a payment, online login, customer service, and more.
Where to Apply for a Loft Credit Card?
Loft has two credit cards and both are issued by Comenity bank. The first one is a store card that you can use at Loft and its family-brand stores only.
The second one is a Loft Mastercard credit card that you can use at its stores and anywhere else where Mastercard is accepted. It is your standard credit card with full features.
The Loft credit card application link is available on the home page of Loft website. You can use this link and apply for a credit card online instantly.
Alternatively, visit Comenity bank's Loft credit card application page directly. Either way, your card application will be processed by Comenity bank.
Keep your personal identification details, date of birth, social security number, contact number, email, and mailing address ready with you.
Fill out the online application form and submit it after confirming the terms and conditions. You'll receive a verification mail or passcode on your mobile for the application.
Your online credit card application is processed immediately and it may incur a hard credit check if you are applying for the Loft Mastercard.
You can also apply for Loft credit cards at a store by reaching out to the customer support desk and asking for the card application.
How to Create the Loft Credit Card login?
Once your application is approved and you receive the credit card, you can then register for an online account with Comenity bank.
If you just want to manage the rewards program online, you can create a separate account with Loft. This account will provide you with all details about reward points, conversion rates, offers, promotions, and more.
Visit Comenity bank's credit card management page for Loft and locate the "Registration" link in the top right corner.
You'll then need to fill out the basic information like the credit card number, social security number, and occupation from the list.
Follow the prompts and complete the registration process instantly in a few clicks. You can then set the account username and password as login credentials.
How to Make a Loft Credit Card Payment?
Loft does not allow in-store credit card payments for both of its cards currently. So, customers must choose one of the following convenient options to make a Loft credit card payment.
Pay Online
Comenity bank's online banking allows Loft credit card customers to pay their bills conveniently. Sign up for an online account with Comenity bank using the guidelines listed above.
There are two separate sign-in for both Loft Credit Card and Loft Mastercard. For Loft Credit Card, you can find the sign-in page here.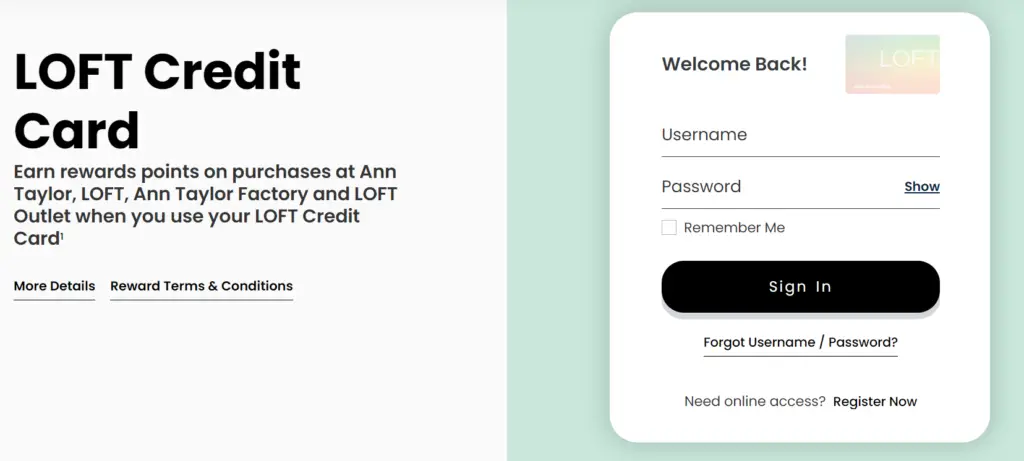 For Loft Mastercard sign-in, you can find the sign-in page here.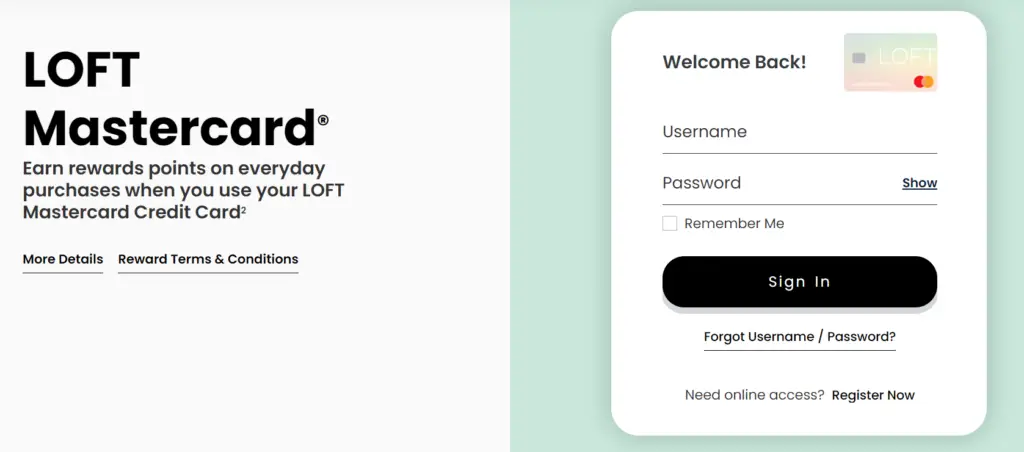 Use your account credentials to log in and locate the "Payments" tab from the menu first. Then, select your credit card from the given options.
Verify your bank account number, account routing number, contact details, address, payment amount, and other details.
Confirm the payment by submitting the form and waiting for approval. Your online credit card payment should be processed immediately.
Pay through the Mobile App
Comenity bank's mobile apps are available for IOS and Android devices for its customers. You can download the app and make a Loft credit card payment by mobile too.
The account registration and payment processes are similar to the ones described above for online banking. You cannot make a credit card payment by debit card, though.
You can also set auto payments through online or mobile banking accounts for recurring monthly payments. You can set the payment date and amount of your choice, and both these inputs can be changed conveniently at any time.
Pay through EasyPay
Comenity Bank's EasyPay service is a useful method to clear credit card payments without creating an online account. You can make a payment as a guest without ever creating an account.
Provide your credit card number, social security number, and other information to start the process. Then, provide bank account details, select the amount, and confirm contact details.
The EasyPay option is a useful one for customers making a one-off credit card payment. However, you can use it as many times as you like to clear credit card bills.
Pay by Phone
Loft credit card payment by phone is another convenient option for you. You can call the customer care services of Comenity bank to make a credit card payment easily.
Use these phone numbers to make a payment for the relevant credit card.
Loft credit card: 866-907-5612
Loft Mastercard: 866-886-1009
If you make the payment using the automated menu, there will be no charges. Otherwise, the bank may charge you for using the option of a live customer service agent.
Pay by Mail
You can send payments for your Loft credit cards by mail too. This is a slower payment method as it may take a few days to clear the payment instrument you send to the bank.
You can send a paper check or money order to Comenity bank at:
Comenity Bank
PO Box 182273
Columbus, OH 43218-2273
Make sure to make the payment on time as the late fee for the first time is $30 and $41 for a second late payment within six months.
How to Manage Your Loft Credit Card Online?
Managing your Loft credit card online comes with several other benefits than making online payments for customers.
You can enjoy the following benefits once you create the online credit card account:
View and monitor credit card statements as well as transactions.
Add authorized credit card users.
Make credit card payments, transfer balances, and perform other financial transactions online.
Update personal information, including contact number, email, address, etc.
Add the auto payment feature for recurring monthly payments for further convenience.
View due dates, minimum due amount, statement balance, credit card outstanding amount, etc.
View, monitor, and redeem reward points easily.
Customers can manage reward points with a separate online account with Loft too.
Pros and Cons of Loft Credit Card
Loft offers two credit cards. The Mastercard Loft credit card offers more benefits as compared to the store card.
Pros Explained:
5 reward points per $1 spent through this card on brand purchases, 2 points per $1 on gas & groceries, and 1 point per $1 on all other purchases.
The Mastercard comes with 15% off on the first Tuesday of every month.
Card members enjoy free shipping on $75 purchases or more.
Card members enjoy a birthday coupon gift of $15 or $20.
Membership rewards increase with more spending as you move to the next tier.
Cons Explained:
Here are a few limitations of the Loft credit card.
The reward points and the sign-up bonus are lower as compared to similar store cards in the same industry.
Free shipping comes with a minimum spending limit of $75, which is a disadvantage for card members.
Card members pay a high APR on utilized credit.
Qualifying for the Mastercard credit card can be harder for customers without an excellent credit score.
How to Recover Your Loft Credit Card Credentials?
You can contact Comenity bank's customer support helpline at 1-866-907-5612 and ask for credit card credential recovery help.
An easier way to reset your forgotten credentials is through the "forgot password/username" link on Comenity bank's online portal.
How to Cancel Loft Credit Card?
Since Loft credit cards are issued and managed by Comenity bank, you'll need to contact the bank to cancel these cards. You cannot process a credit card cancelation application online, though.
You can contact for card cancelation through the phone helpline or ask for help from a Loft customer care agent to guide you through the process.
All you have to do is make the final credit card clearance before canceling the credit card.
How to Contact Loft Credit Card Customer Support?
You can reach out to Loft customer support through live chat during working hours easily. For a detailed response, you can contact them by phone or by mail too.
For texts and calls, use 1-888-563-8444.
You can send an email using the online form or use the address [email protected]