Forever 21 offers fashion apparel at reasonable prices to its customers. It accepts different payment methods, including credit cards.
Forever 21 offers a store and a standard Visa credit card to its customers. Both these cards offer lucrative reward points and benefits to users.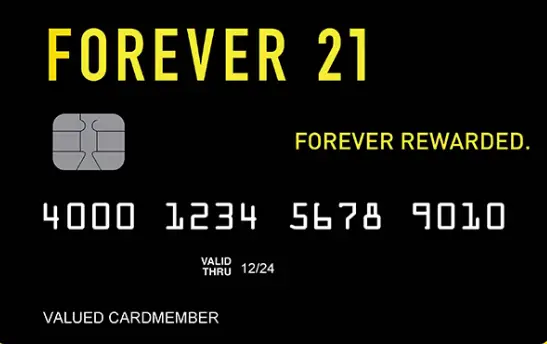 Where to Apply for a Forever 21 Credit Card?
The Comenity Capital Bank issues and manages Forever 21 credit cards. It has two credit cards on offer for its customers.
The first one is a closed-loop store card issued to its customers for in-store purchases only. The second one is a Visa credit card that you can use at Forever 21 stores and anywhere else a Visa card is accepted.
You can apply for both these credit cards through Forever 21 stores or online. Visit a nearby Forever 21 store and go to the customer services desk.
You can fill out the credit card application by providing the necessary information and the customer services agent will proceed with the application there.
Alternatively, you can apply for a Forever 21 credit card or Visa card online. Locate the credit card application link on the home page of Forever 21.
This will redirect you to Comenity bank's credit card application center. Click on the "Apply" link and follow the prompts.
Provide necessary information including name, address, date of birth, contact number, email, and social security number. Then, fill out other sections to complete the application form.
Comenity bank will immediately assess your credit card application and will notify you instantly. The qualification criteria for the Visa credit card may be harder than the Forever 21 store card.
How to Create the Forever 21 Credit Card login?
A useful method to manage your Forever 21 credit card is by creating an online account with Comenity bank. You can create the online account login once you receive the credit card and activate it.
Activate the credit card using the online link available on Comenity bank's card management page or use the phone helpline given on the card.
Then, visit Comenity bank's card management page and locate the "Register Now" link to register your card. You'll just need to input the card number and social security number and select occupation.
The card management system will verify your identity and process your account application. Verify other information like the contact number, address, and email to complete the registration process.
You can manage the rewards program and credit card through the same portal. However, if you have both cards, you'll need to register them separately with Comenity bank.
How to Make a Forever 21 Credit Card Payment?
There are quite a few methods to make a Forever 21 credit card payment, including the in-store payment option.
In-Store
A convenient way to make your Forever 21 credit card bills is in stores. Visit the nearest store and reach out to the customer services desk.
Provide your identity and credit card details and make the payment. You can use the acceptable payment means like a paper check, cash, or money order.
Online
Paying your Forever 21 Visa and credit card bills online is another simple and convenient option. It is an excellent way to make credit card payments on time for recurring payments.
Sign in with your account credentials by visiting Comenity bank's credit card management page. Locate the "Payments" tab and select your credit card.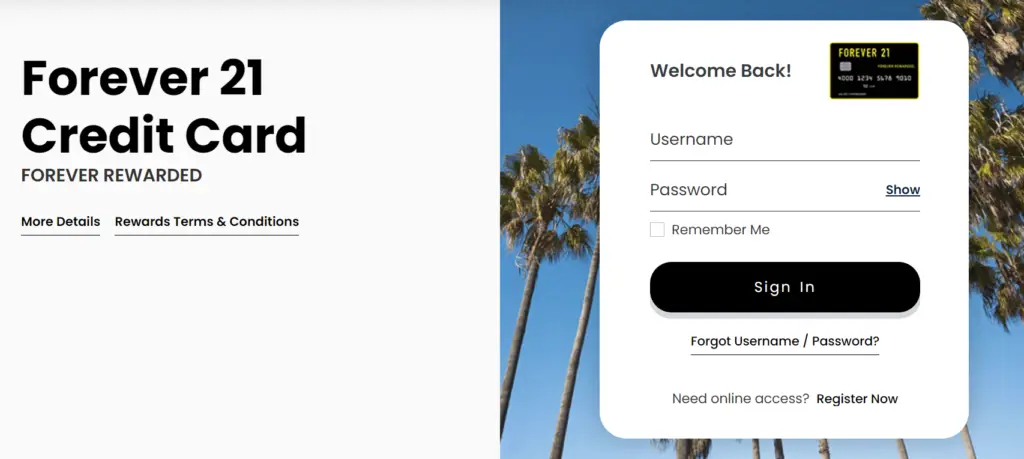 Then, confirm the bank account details, bank routing number, amount, contact number, and other information before processing the payment.
If you need to change the default bank account number, change it before making the payment as it will take time to reflect the change in your online account.
Mobile App
You can follow the same steps to make a Forever 21 Visa credit card payment through the mobile banking application too. Download Comenity bank's mobile app for your IOS or Android device first.
Then, register or sign in with your account credentials. Confirm the bank account and payment details before processing the payment.
Forever 21 credit card members can also set auto payments for recurring monthly payments through mobile or online banking channels. You can choose a suitable payment date and amount of your choice and can change these inputs at any time.
EasyPay
Comenity bank offers an excellent method to clear credit card payments to its partner brands and their customers. The EasyPay service is a convenient way to make Forever 21 credit card payments without creating an online account.
Just provide your credit card number, and the last four digits of your social security number, and choose your occupation from the list. Then, proceed with the payment by confirming the account and payment details.
This method should also immediately process the credit card payment for you.
By Phone
You can also use the phone helpline services of Comenity bank to clear your Forever 21 credit card payments. Keep ready with you the credit card number, bank account, bank routing number, and identity information.
You can call Comenity bank customer care at 1-866-512-6286. If you use the services of a live agent, the bank may charge you a fee against it.
By Mail
Prepare a paper check and money order and mail them to Comenity bank to easily clear your Forever 21 credit card payments.
Make sure to send the payment a few days before the due date as this method takes more time than other options.
Post your payments instruments to Comenity bank at:
Comenity Capital Bank
PO Box 183003
Columbus, OH 43218-3003
How to Manage Your Forever 21 Credit Card Online?
You have to create an online credit card management account once. Then, you can perform various tasks through online banking conveniently.
A few of the tasks you can perform with a Forever 21 online account are:
View and monitor credit card transactions and statements.
Add authorized card users.
View credit card balance, due dates, minimum payable amount, APR, and other information.
Make online payments and add the auto payment feature.
View and redeem reward points and statements.
Update account information including personal and bank account details.
Pros and Cons of Forever 21 Credit Card
The Forever 21 credit card comes with several benefits and some limitations too. Let's briefly discuss them here.
Pros Explained:
You get a 20% off on your first purchase with both of these credit cards.
Card members enjoy a further 15% discount as a welcome bonus after their first purchases.
Card members receive a birthday and anniversary coupon each.
Forever 21 credit card members earn 3 points per $1 spent within the stores.
Forever 21 Visa card members earn additional 2 points for $1 spent on a partner restaurant and 1 point per $1 spent on all other purchases.
All card members enjoy free shipping and returns.
Cons Explained:
The qualification for a Forever 21 Visa credit card can be more difficult than a store card.
The visa credit card comes with a high APR.
The reward points rate is relatively low and points can only be redeemed for purchases.
How to Recover Your Forever 21 Credit Card Credentials?
Forever 21 credit card customers can contact the phone helpline to recover the card credentials easily. It may take a few minutes to recover your card login and password.
Another way to password recovery is to use the "forgot password/username" link on Comenity bank's online card management page.
You'll receive a verification email or passcode to confirm your identity. Once you verify, you can instantly reset the online account credentials.
How to Cancel Forever 21 Credit Card?
Since both the credit cards of Forever 21 are issued by Comenity bank, you'll need to contact the bank to cancel them.
Make sure you have no outstanding card balance or charges to pay before you can process the card cancelation application.
How to Contact Forever 21 Credit Card Customer Support?
The live chat customer support from Forever 21 is available within working hours on weekdays. You can also contact its customer support through the phone helpline at 1-888-494-3837. If you have specific questions about the Visa credit card, you can contact the customer support of Comenity bank directly at 1-866-512-6286.