Capital One has a large and growing customer base in the US and worldwide. It offers retail and corporate banking services to its customers.
You can enroll in its online banking/mobile banking services to enjoy convenient access to its products. You must create a username and password first to access online banking services though.
Let us guide you through the process of how to find and use your Capital One login, retrieve a forgotten password, contact customer support, and more.
Capital One Online Financial Tools
Capital One is one of the leading banks in the US and UK, with a wide network of branches and ATMs for its customers. It offers retail banking products as well as corporate banking services.
Along with its conventional products, customers can access its online banking portal to enjoy easier access to products and services.
Retail and corporate clients alike can enjoy the following conventional services from Capital One through its branch network.
Checking & Savings Accounts
Credit Cards
Auto Financing, Business Financing, and Commercial Financing for retail and corporate clients.
Capital One Shopping services for clients to get better prices while shopping online.
The "CreditWise" service for retail clients to monitor and manage personal credit scores for free.
Online and software solutions for business clients to manage data, research, and other business aspects.
Customers can access most of these services online too. For instance, accessing online banking through the website or mobile app and making online credit card payments are a few of the key services that you can enjoy through its online services.
How to Log In to Your Capital One Bank Account From a Computer?
You must register for online banking first to access Capital One's online services. If you have a valid bank account number, a credit card number, or any other product offered by Capital One, the online account setup should take a few minutes.
Visit the online banking registration page at verified.capitalone.com first. Provide the last name, last four digits of your social security number, and date of birth in the relevant fields.
You can register with a bank account opened with Capital One too. Then, submit the form to continue and provide further information. The system will match this information against the bank record.
In the next step, create your username and password for online banking. You'll need to verify the details through email or a passcode on your mobile phone too.
If you have already created online banking credentials, you can directly visit the Capital One homepage to log in.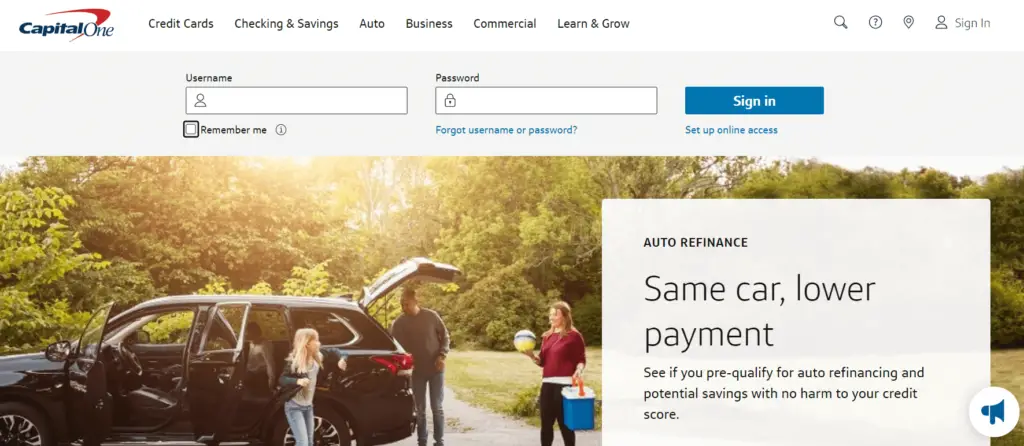 Use the "remember me" option for online banking only when accessing it through a private network and a personal device. Avoid saving your username and password if you are using a public Wifi network or a shared device for security.
How to Log In to Your Capital One Bank Account From a Mobile Phone?
Capital One's mobile banking applications are available at Apple's App Store and Google's Play Store. You'll first need to download the app on your device.
Alternatively, send an SMS text "GET" to 80101 from your registered mobile number with Capital One to receive the official mobile banking app.
Create your online mobile banking account following the same procedure as outlined earlier. Then, use the username and password to log in to your mobile banking account.
Here are a few key services available on the mobile app from Capital One.
View and monitor your spending activities on the go.
Go paperless and view your credit card and account statements at any time.
Mobile check deposits for instant clearing.
Send and receive money with ZELLE in minutes.
Pay your bills from the app, set up auto payments, and more.
You can customize the alerts and notification settings for an enhanced security experience.
Lock your credit or debit card from the mobile app.
Access to the "CreditWise" service to view and monitor the credit score easily.
Set up and view the virtual credit card from the mobile app and also keep track of the reward points and redemption options.
How to Retrieve a Forgotten Username or Password?
There are two simple methods to retrieve a forgotten username or password. You can use Capital One's phone helpline or use the online link.
Visit the homepage of the Capital One website and locate the login link. Use the "Forgot Password/Username" links below the login line.
You'll receive an email to reset the password and also a passcode on your registered mobile number for authentication. You may need to enter your last name, the last four digits of your social security number, and your date of birth for identity confirmation.
Once you verify your identity, you'll be able to reset the password or username following the instructions received.
Alternatively, you can talk to a customer support agent through a call or by visiting the nearest branch. Keep your identification documents and account details ready with you to reset the account credentials.
What are the Benefits of Using Capital One Online Banking?
Using online banking tools from Capital One can help you perform several tasks conveniently and on the go. You can access most banking services from a web browser or through the mobile app.
Here are a few key benefits you can enjoy with Capital One's online banking tools.
Open a checking or savings account without stepping into a branch.
Transfer funds online or through the mobile app on the go and set up auto payments.
View and monitor your bank account, credit card account, and financial transactions easily.
Deposit paper checks and other financial instruments by scanning through your mobile.
Online bill payments for cell phones and other utilities.
Manage and view credit card history, and transactions, and make credit card payments.
Contact customer support, apply for a new credit card/debit card, and perform other tasks online.
Create an online budget for your bank account.
You can enjoy all of these services easily from the mobile banking app too.
How to Seek Help from Capital One Eno Chatbot?
Capital One offers a live chatbot Eno to help customers perform various tasks. It acts as a live customer support agent to help you through any issues.
You can set up customized alerts and notifications for your bank account and credit card. You'll be notified by Eno whenever there is a suspicious transaction from your account.
You can use Eno to create and monitor an online budget tool as well. It will help you track your spending habits and analyze where your money is being spent.
Finally, you can contact Eno as a live agent to get answers to your common questions. You must be logged in to your online or mobile banking account to connect to Eno.
You can use the service through text messages from your mobile after logging in and sending a text to 227-663.
How Contact Capital One If You Have Trouble With Your Account?
Capital One offers dedicated customer support services to its clients for various banking segments. You can contact a live agent or send emails to get your problems solved.
For live customer support calls, use 1-877-383-4802.
Online banking support is available at 1-866-750-0873.
Retail customers can contact credit card services at 1-800-227-4825.
For savings/checking accounts, and lost/stolen ATM cards, call 1-800-655-BANK (2265).