Bank of America has a large network of ATMs and branches in the US. It is one of the leading banks in America.
You can enjoy its banking services conveniently through its online or mobile banking services too.
Let us guide you on how to find and use your Bank of America Login, retrieve a forgotten password, contact customer support, and More.
Bank of America Online Financial Tools
Bank of America offers an extensive range of banking, credit, and insurance products to its retail and corporate clients in the US. It has a wide network of branches and ATMs throughout the country too.
Bank of America customers can enjoy most of the services through its online banking too. You can use online banking through the web browser or a mobile app conveniently.
Here are a few key online services and financial tools on offer from Bank of America.
Checking, Savings, CD accounts for retail and business clients.
Personal and business credit cards with different limits and offers.
Home loans, auto loans, business loans, and commercial financing solutions for retail and business customers.
Dedicated investing services and financial advisory for its clients.
Personal financing solutions for retail clients through its "Better Money Habits" program.
Dedicated banking, credit, and investing solutions for business clients.
Wealth management solutions for individuals and business clients.
Dedicated online fraud prevention and security services for its clients.
Many of these services listed here are available through online and mobile banking too. For instance, you can open a savings/checking account online without going to a Bank of America branch.
How to Log In to Your Bank of America Bank Account From a Computer?
Register for online banking first to enjoy online banking services conveniently from Bank of America. If you have a bank account, a credit card, or any other product from Bank of America, you can register for online banking easily.
Visit the online banking page of Bank of America first and locate the "enroll in online & mobile banking" link. Provide the last 6 digits of your bank account number first.
Then, write your social security number or ITIN in the second line. You can use a credit card number instead of a bank account too.
Then, provide your personal information, contact number, email, date of birth, and address in the next step. You'll receive a verification mail and a passcode on your given mobile number.
Once you verify, you'll be able to set a username and password for your online banking account. You can now use these credentials to log in and access online banking services.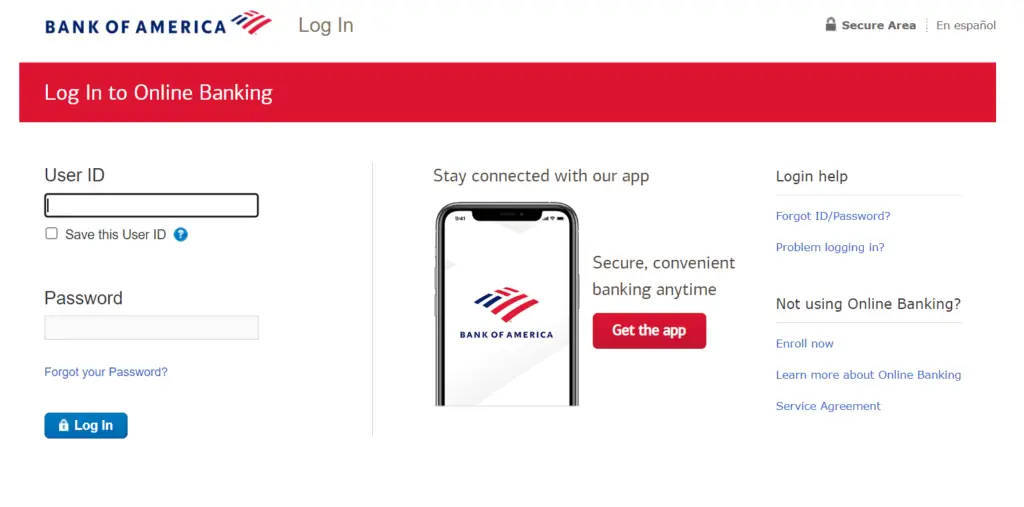 For security purposes, use the "remember password/username" option only when accessing online banking from a private network. Do not use this option if you are accessing online banking from a shared device or Wi-fi network.
How to Log In to Your Bank of America Bank Account From a Mobile Phone?
Bank of America offers mobile banking for its customers through its IOS and Android apps. You can download the Bank of America mobile app from Apple's App Store or Google's PlayStore conveniently.
Then, register for online/mobile banking using the same steps listed above. If you already have a username/password, you can directly access mobile banking services.
Mobile banking services offer the following additional benefits to customers:
Set up alerts and notifications.
Set up additional security features like fingerprint, Face ID, and Touch ID.
Lock or unlock a credit/debit card, report a lost or stolen card, replace a card, and manage reward points.
Update personal information and order checks easily.
Schedule an appointment, open a bank account, and enjoy other digital banking services.
Transfer money through the bank account, send/receive money with ZELLE, online bill payments, and direct deposits.
How to Retrieve a Forgotten Username or Password?
If you make a few unsuccessful username/password attempts, your online account will be blocked. You may forget your online banking credentials too.
There are two options for you to retrieve a forgotten username or password.
Visit the home page of Bank of America and locate the login link for online banking. Use the "Forgot Username" or "Forgot Password" links given below the sign-in space.
You'll receive an email in your inbox and also a passcode for further verification. Once you click the verification link and enter the passcode, you'll be able to reset the password for your online banking account.
Alternatively, you can contact Bank of America customer care directly through the phone helpline. Keep your bank account details and personal identity information ready with you.
What are the Benefits of Using Bank of America Online Banking?
Online and mobile banking services make your banking experience a lot more convenient and easy than conventional banking methods.
Here are a few major benefits of using the mobile/online banking services of Bank of America.
Open a saving, checking, or Certificate of Deposit account easily in minutes.
Go paperless and enjoy digital banking services conveniently.
View and monitor bank account statements.
Transfer money from your bank account. Receive and send money using ZELLE services.
Apply for a credit/debit card, replace a card, and report a lost/stolen card instantly.
Online bill payments for cell phones and other utility services.
View and monitor credit card transactions, view history, and manage card alerts.
Set up customized alerts and notifications.
Set up auto payments for your recurring bill payments, including credit card dues.
Check your FICO score online and view your credit history.
Manage personal finance through online budgets and track spending.
What are the Other Methods to Access Banking Services from Bank of America?
Bank of America offers a few convenient banking options for its customers. You can always enjoy conventional banking services through its physical branch network.
Phone Banking
Bank of America offers 24/7 phone banking services to its clients. You can access most of the banking services through its phone services easily.
call 800.432.1000 to access banking services and solve any problems with your online banking or any other issues.
ATM Banking
You can perform a lot of basic banking transactions like cash withdrawals, fund transfers, check deposits, and other services through ATMs and financial centers too.
Use the Bank of America ATM network to avoid paying charges for these services.
Banking by Mail
You can deposit paper checks or other instruments by mail too. Customers can contact Bank of America for other queries too.
Send your paper checks to:
PO Box 105576
Atlanta, GA 30348-5576
How Contact Bank of America If You Have Trouble With Your Account?
Bank of America offers dedicated customer support services for its different banking sections. You can visit the "Contact Us" page of the Bank of America to view help topics and find the right number for you.
A few of the commonly used customer support numbers include:
●      Online and Mobile Banking support 800.432.1000
●      For general account servicing and information, 844.401.8500
●      Credit card customer service 800.732.9194
For CDs and IRAs, contact 888.827.1812
FAQs About Online and Mobile Banking – Bank of America
Let us now answer a few frequently asked questions about the Bank of America online and mobile banking services for your convenience.
How Much Does Bank of America Charge for Online Banking?
Bank of America does not charge any fee for its online or mobile banking services. However, you may need to pay for specific services, such as ordering a credit card by mail.
Can I Access Online Banking Services without Logging in to My Account?
No, you must log in to your online or mobile banking account first to access these services.
What Types of Checks Can I Deposit Using Mobile Banking Services?
You can deposit the following types of checks using the Bank of America mobile services:
Personal checks
Business checks
Government/treasury checks
Cashier's checks
Is there any Additional Fee for Direct Deposits?
No, Bank of America does not charge you additional charges for direct deposits made through mobile banking.
What is the "My Financial Picture" Service from Bank of America?
The "My financial Picture" service allows you to view all of your Bank of America accounts, including bank accounts, credit cards, and credit accounts from the same place.
You can also add external bank accounts from other banks.