The Home Depot credit card comes with no annual fee and competitive interest rate for closed-loop or store credit cards.
Retail and business clients can apply for a Home Depot credit card easily within a few minutes. This credit card is a good choice for customers who regularly shop at Home Depot for home improvement projects.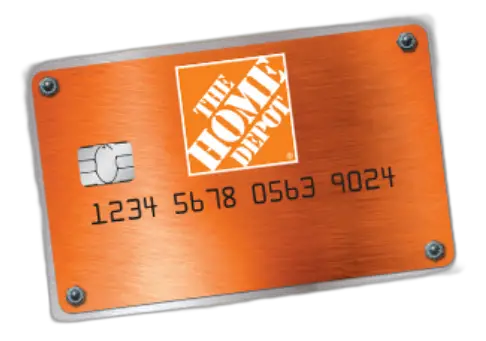 Business contractors working regularly with Home Depot can also apply for a commercial account or revolving facility.
Home Depot Credit Cards
Home Depot offers closed-loop credit cards to its customers. These cards are offered to both retail and business customers alike with similar benefits.
Consumer Credit Card
The first type of Home Depot credit card is its basic store card. You can choose this card if you are a frequent visitor here.
As it is a private-labeled credit card, it can only be used at Home Depot stores or for its website purchases. You cannot use this card anywhere else.
This card offers 0% financing for up to six months. It also offers a cash discount on first purchases as a welcome bonus.
Home Depot Project Loans
If you are looking for a small to medium home improvement project loan, Home Depot offers one with up to $55,000 of financing.
Again, you can use this approved loan amount for purchases at Home Depot only. The APR range for this loan will vary from 7.42% to 19.96% depending on the loan term and the amount you choose.
Business Credit Cards
Business consumers who regularly purchase from Home Depot for their home improvement contracts can also apply for financing.
Business consumers can choose from the "Commercial Account" or the "Revolving Credit Account" for financing needs. One comes with a fixed loan amount and the other is a revolving loan facility as the name suggests.
The loan term for these credit facilities can be up to 84 months and the maximum financing amount is $55,000.
What Information Do You Need to apply for a Home Depot Credit Card?
Retail and business applicants for a Home Depot credit card will need to provide identification and income information with applications.
Here are a few important details to provide with a Home Depot credit card application:
Full name
Date of birth
Complete address
Social security number (EIN for businesses)
Gross Annual Income
Employer Information (for individuals)
Home Depot credit cards are issued by Citibank. Therefore, you'll see a soft credit check when you apply first with prequalification.
Then, Citibank will perform a hard credit check for individuals and businesses. You may need to provide further details like current loan amounts, debt-to-income ratio, etc.
How to Qualify for a Home Depot Credit Card?
The exact qualification requirements for a Home Depot credit card are not listed officially on its website. We can guess the credit score and other requirements with the available information thus far.
Like any other credit card, you can expect approval with a credit score of 700+. Consumers with a credit score of 600+ can also apply with expected mid-range credit approval.
Citibank may look at other qualification factors like your gross annual income, current debt-to-income ratio, debt utilization, employer information, and so on.
Therefore, the qualification factors will also influence Citibank's decision to approve a certain credit card limit. These factors will also affect the APR charged on your approved credit.
How to Apply for a Home Depot Credit Card?
You can apply for a Home Depot credit card in two ways.
Online Application
Visit Home Deport Credit Center website and locate the credit card application link.
Then, choose your preferred credit card or the project loan offer.
Fill out the application form by providing essential information like name, address, DOB, social security number, and so on.
Read and agree to the credit card application terms and conditions.
Submit the application after confirming the terms and wait for the approval.
Your credit card application approval process is instant usually. However, it may take a few business days in some cases, depending on what information is required from your side.
In-Person Application
You can also apply for a credit card when visiting a Home Depot store. Reach out to the customer service desk and ask for the credit card application.
Complete the application by providing the necessary details and submit the form to the customer service agent there.
In-person credit card application may take longer though. However, the customer service agent will provide you with the virtual credit card account number that you can use instantly for purchases.
New customers get a $25 welcome bonus too.
How to Get Your Home Depot Credit Card Application Approved?
Getting approved for closed-loop credit cards is easier than open-loop credit cards. There are a few points to remember when you apply for Home Depot credit cards to help you get faster approval.
Prequalify
Always go for the prequalification process to assess your chances of approval. You can provide essential details in the prequalification step and see whether you can get approved for the credit card.
Also, prequalification is free and does not cost you a hard credit inquiry. It is only a soft credit check that does not impact your credit score.
However, approval in the prequalification does not guarantee credit card approval or the same credit limit and APR.
Check Credit Score
Although you don't know the exact credit score requirements for a Home Depot credit card, you should consider it as a prime factor.
If your credit score is bad, take time to improve it before you can apply for new credit cards. Remember, failed credit card applications mean more credit check inquiries and further loss of credit score points for you.
Debt-to-Income Ratio
Always look at this key factor when applying for any type of credit card. Like any other lender, Home Depot will also look at your existing debt-to-income ratio.
You can always evaluate this key factor by analyzing your existing debts against your current gross annual income. If this ratio is too high, work to lower it by increasing your income or repaying some of the debts in full.
Income Sources
Your debt-to-income ratio and credit utilization ratio will be linked to your income sources somehow. Lenders will be interested in knowing your gross annual income and your take-home income after taxes and interest payments.
Therefore, keeping a healthy record of a stable income is pivotal in getting approved for a Home Depot credit card. You may add a few temporary income resources to give a boost to your annual income.
Red Flags on Your Credit History
Keep an eye on your credit history by regularly reviewing the credit history report. You get a free copy of the credit report annually from the credit bureau and can get a free one at any time from other sources too.
The potential red flags on your credit report may include late payments, penalties, default on a credit facility, and so on.
There is no quick fix to these red flags on your credit score though. However, you can work with a professional to reduce the impact of these points and improve other factors to get approved for your Home Depot credit card application.
Provide Correct Information
Lastly, provide the correct information when submitting the Home Deport credit card application. Incorrect or incomplete information can also lead to application rejection.
It is particularly important for applicants with average credit scores and unstable monthly income.
How to Improve Your Home Depot Credit Card Application Approval Chances?
Once you know the Home Depot credit card application process and qualification factors, it's easier to improve the chances of approval by following these tips.
Review your credit report first and try to remove any red flags.
Check for credit score errors and disputes with the credit bureau.
Always apply through the prequalification step to assess approval chances.
Improve your creditworthiness by planning for the long term.
Do not reapply immediately without knowing the exact reason for the application rejection with Home Depot.
Consult a professional to improve your credit score, credit utilization, and gross annual income ratio for better chances.